Tetris Heart Puzzle by Kirstylicious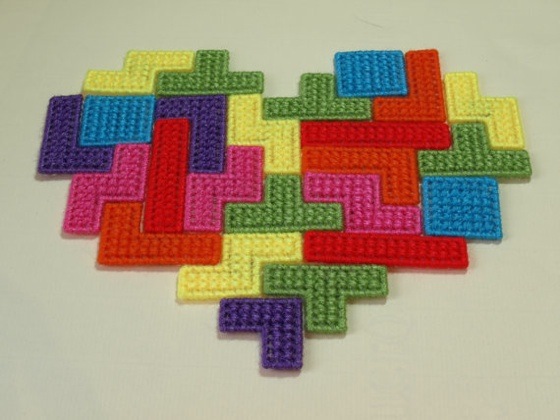 I <3 this Tetris Heart Puzzle!
In my brain I know there's lots of nerdy things that can be done with plastic canvas and yet for some reason it always surprises me each time I find a new one. This Tetris heart puzzle is super cool, and yet super simple at the same time.
I will definitely be making my own Tetris Puzzle in the near future, since I know how to plastic canvas, love tetris, and am always on the lookout for things I can make. The only question is, what to make a puzzle of? Not that I'm not a fan of the heart. I am. But it's not really me. I'm sure I'll think of something.
This item is a set of handmade Tetris cross stitch magnets that can be put together as a puzzle to make a heart shape.
A picture will be provided to show you how the heart is made up, however if you don't like hearts you can always make your own shapes.
This would make a perfect gift and would be a great edition to brighten up your fridge that also doubles up as a fun puzzle.
Would also make a great gift for a loved one for Valentines, Anniversary's, Birthdays or just as a romantic gesture!