Chewbacca (Star Wars) plush pattern by Drawpilgrim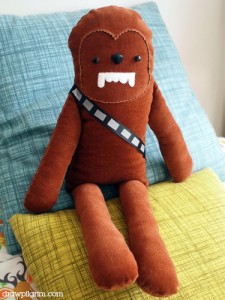 While there are lots of stuffed chewbaccas to choose from
, I prefer to make my own.
Draw pilgrim's done up her very own pattern, and it's pretty neat. It's not free, but at $3.50 AUD, it's certainly very affordable. It reminds me of the old school sock puppet monkey
but I'm not entirely certain why.
This chewie is about 50cm tall and made of durable pinwale corduroy, guaranteed to last for at least twelve parsecs. Wait a minute … a parsec is a unit of distance, not time! you lied to me, lucas! lied to me!