Doctor Who Tardis and Robin Dictionary Art Print
These prints, while such a super simple idea, always seem to turn out super cool. This one is a printed page from a vintage dictionary with a TARDIS from Doctor Who, and a robin on top.
The print itself is only $15, which isn't super cheap, but is still in the realm of "reasonable".
I suppose you could always get your own vintage dictionary
. It would definitely cost less per print, and you could make a bunch of different prints of your very own.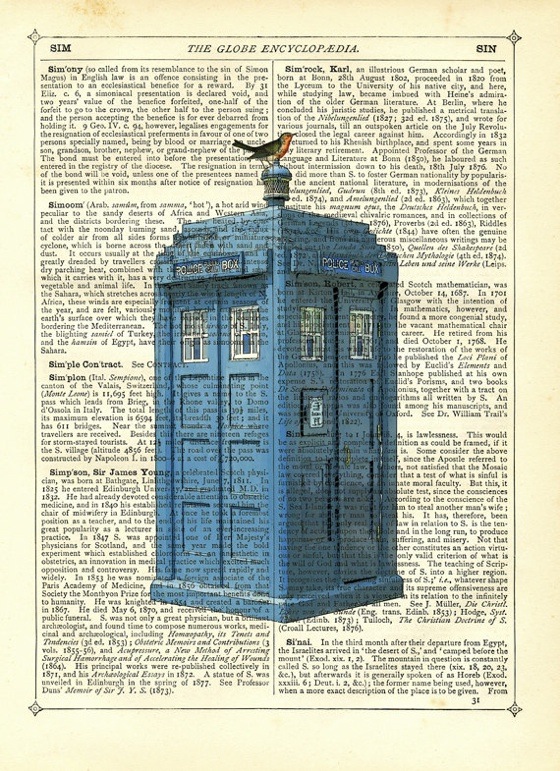 Doctor Who Tardis with Robin on an antique recycled vintage dictionary art page print.

The artwork is digitally printed directly onto an old encyclopaedia page and each print is hand signed.

It comes unframed and unmounted and at one size, which is: 7.6 inches x 10.5 inches / 19.8cm x 26.5cm approx. It fits nicely within an A4 frame with a mount if desired. (The frames shown are for illustration purposes only, they are not for sale).

These pages are all cut from bound books, this means that the left margins can differ slightly in width.

The page shown here is from the same book your print will be on, though the background text will differ, so each one is 100% unique.

The pages are rescued from old books, so they can contain some minor imperfections due to their age.

The photo of the prints hanging in the room is not to scale. The prints have been enlarged so that you can see them more clearly.

Your print will be protected in a re-sealable plastic photo bag and sent in a protective envelope.