Metroid Parasite Pendant by CriticalHitShop
Super duper Metroid Parasite Pendant.
If you're looking for the perfect trophy to represent your victory over the little life suckers than look no further. These metroid parasite pendants are available for custom order, so I have no idea how much one of these runs costwise. Ideally not too much, since they're super awesome, and every metroid fan should have one.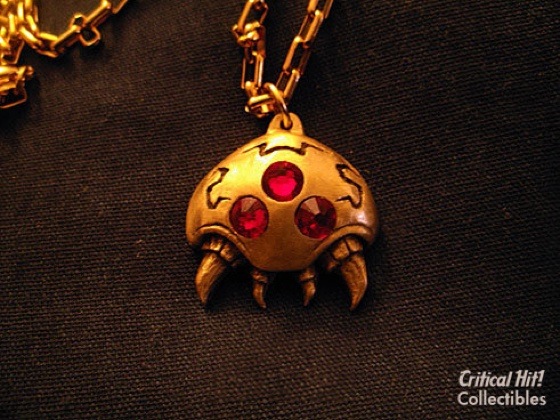 We're getting more into the old-school stuff. Here's a classy pendant for a classic game. These cute little endangered buggers are crafted out of solid brass, antiqued, polished to a soft shine, then decorated with red gems. They don't want to hurt you, they only want your love….and your life energy. Just a bit of that too.

CHAIN/CORD: Each comes hung on an 18″ gold-toned chain by default but your chain can also be 20″, or 22″ if you like. We also have 18″ braided black leather cords, if you're looking for something a little more manly. If you'd like something other than the default, please specify which you'd like in "Note to Seller". We're working on getting longer cord necklaces.