Geeky Knitted Pillows Collection
These Geeky pillows are one of the few acceptable reasons to have more than one pillow per person on your bed. This collection of different pillows from around the internet features lots of different kinds of geek. There's a TARDIS pillow, which just has a TARDIS on it, which I think would look better if it was in the shape of a TARDIS. Super Meat Boy, which IS in the shape of super meat boy (I've not had the pleasure of playing the game, so I've got no idea what a meat boy is).
There's a super cool pillow with the Gryffindor crest, a mario musroom pillow (again, on, not in the shape of).
I don't know if I'd call the heart shaped pillow "Geeky", but it's definitely super neat. Possibly a good valentines gift if your significant other's into realism over the silly "heart" shapes normally associated with the day.
The Wonder Woman and Hunger Games pillows are pretty neat as well. The Wonder Woman logo really suits as a pillow, and the Hunger Games one would go with pretty much all of my furniture.
But my favourite is the R2-D2 pillow. It takes a pro to make it, but it looks super cute and cuddly, just like I imagine R2-D2 to be. Ok, he's not super cuddly, but he should be.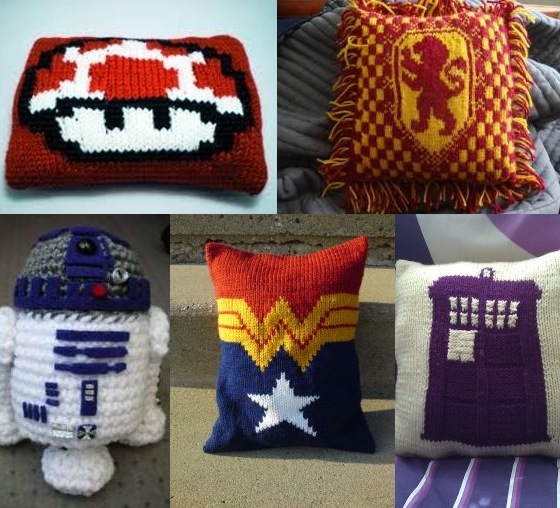 Nothing beats having something you have hand crafted yourself, to decorate your room. Well, apart from the luxury bedding you saved for a while to buy! So below, I have listed my favourite knitted pillows from across the internet, to inspire both novice and expert knitters! Get out your needles and yarn and get crafting, there's still nine months to Christmas, so you could make everyone one by then. So, here goes, best geek knits…in the form of pillows.